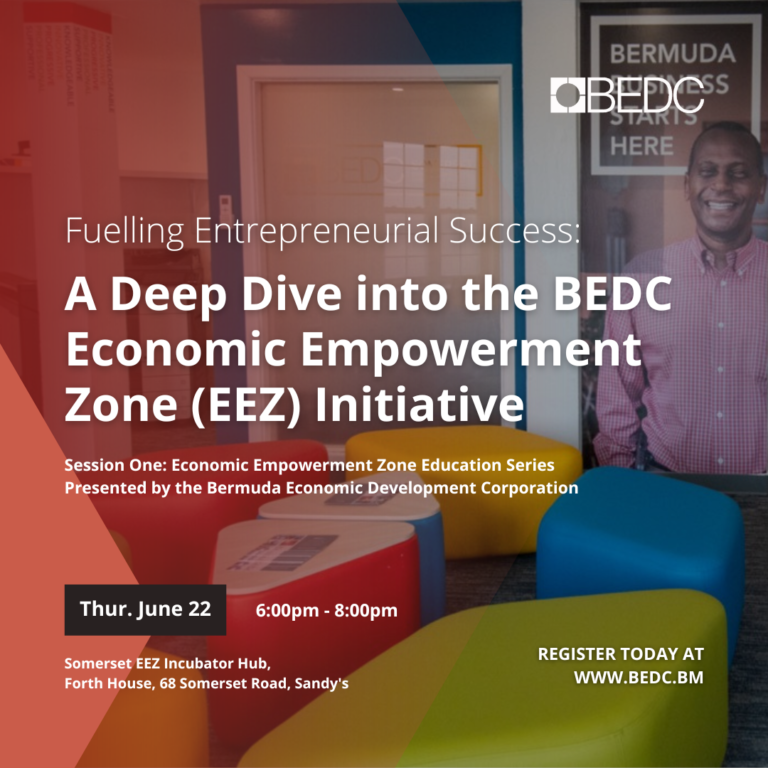 Fuelling Entrepreneurial Success: A Deep Dive into the BEDC Economic Empowerment Zone (EEZ) Initiative
Next Event
Date

Sep 12 2023

- Oct 31 2023

Time

Weekly, Every Tuesday

6:00 pm - 8:15 pm
Join us at "Fuelling Entrepreneurial Success: A Deep Dive into the BEDC Economic Empowerment Zone (EEZ) Initiative" info-session and open house, where we delve into the pivotal role of the BEDC's three Economic Empowerment Zones in fostering economic growth and empowering small businesses.
During this informative event, we will explore the fundamental functions of the BEDC and shed light on how they actively contribute to the development of Bermuda's business landscape. Discover the diverse range of resources and support mechanisms provided by the BEDC, designed specifically to address the needs of small businesses and drive their success.
Learn firsthand about the BEDC's Economic Empowerment Zone initiatives, programs, and services tailored to nurture entrepreneurship, stimulate innovation, and promote sustainable growth. From startup assistance to financial aid, mentorship programs to business counseling, the BEDC offers a comprehensive suite of resources that help small businesses thrive.
Industry experts, entrepreneurs, and BEDC representatives will share their experiences, success stories, and insights on how to effectively leverage the EEZ advantage. Engage in interactive discussions, gain practical tips, and network with like-minded individuals who are passionate about business development in Bermuda.
Don't miss this opportunity to unlock the full potential of your small business and explore the vast opportunities presented by the Bermuda Economic Development Corporation. Join us at "Fuelling Entrepreneurial Success" event and pave the way for your business growth and success.