Running for eight weeks up to six months, These in-depth courses are designed to help entrepreneurs hit certain targets in their professional growth – from formulating and testing a business idea, to implementation, financial management and expansion.
EARLY STAGE
Think Like An Entrepreneur 
Using the world-class Ice House Entrepreneurship curriculum this course helps individuals develop an entrepreneurial mindset and validate their business idea.
FOUNDATION STAGE
Entrepreneurship 101 
This course provides an understanding of how to open a business in Bermuda and develop a business plan.
STABILITY STAGE
Financials 101
This course helps entrepreneurs learn to cost and price their products and services and look to understand how to use QuickBooks to produce financial statements.
Upcoming Multi-Week Courses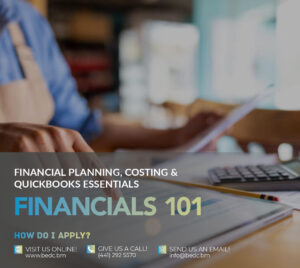 Tackle Accounting for your Business like a Pro! About the Program Participants will learn the basics of financial planning, understanding financial statements, and the...
...
No event found!