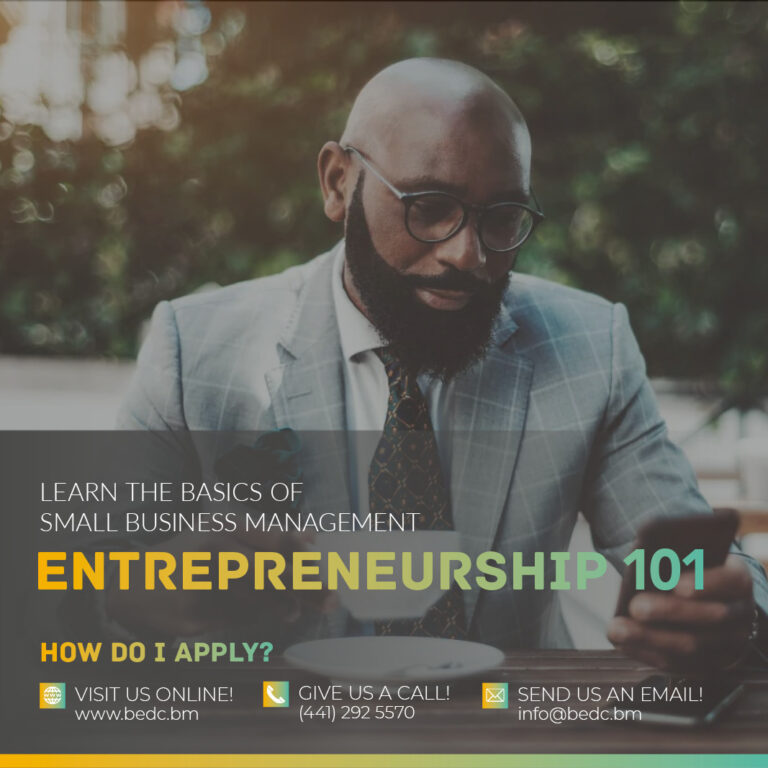 Learn the Basics of Small Business Management in Entrepreneurship 101
About the Program
Learn the basics of small business management and creating a business plan. In this eight-week course facilitated by Donte Hunt, Micro, Small & Medium Enterprises Officer at BEDC. This course will help you understand what is required to start a business in Bermuda and take you through each component of building a business plan. The course includes guest experts and testimonies from entrepreneurs.
Learning Objectives
Understand Requirements for Starting a Business.
Understand Bermuda Legislation and How it Impacts your Business.
Develop a Preliminary Business Plan.
Establish Business and Government Contacts.
Build a Budget to Help Identify Start Up Expenses.
Workshop Curriculum
Week 1 – Intro & Making the Decision to Start a Business
Week 2 – Validating your Product/ Service
Week 3 – Writing the Business Plan
Week 4 – Government Obligations
Week 5 – The Cost of Your Business
Week 6 – Funding Your Business
Week 7 – Marketing, Operations & HR
Week 8 – Wrap up, Review & Celebration
Where?
BEDC, 1st Floor, Sofia House, 48 Church Street, Hamilton
When?
September 12 – October 31, Weekly Sessions Every Tuesday,  6pm – 8:15pm
How Much?
$292 (Early Bird – Available Until August 29th)  /  $325 (Regular Price)
Course Must have a Minimum of 15 participants to proceed. There is a 40 Participant Maximum.
Hourly Schedule
Course Dates & Schedule
6:00pm

-

8:15pm

Intro & Making the Decision to Start a Business

Week One
6:00pm

-

8:15pm

Validating your Product/ Service

Week Two
6:00pm

-

8:15pm

Writing the Business Plan

Week Three
6:00pm

-

8:15pm

Government Obligations

Week Four
6:00pm

-

8:15pm

The Cost of Your Business

Week Five
6:00pm

-

8:15pm

Funding Your Business

Week Six
6:00pm

-

8:15pm

Marketing, Operations & HR

Week Seven
6:00pm

-

8:15pm

Wrap up, Review & Celebration

Week Eight