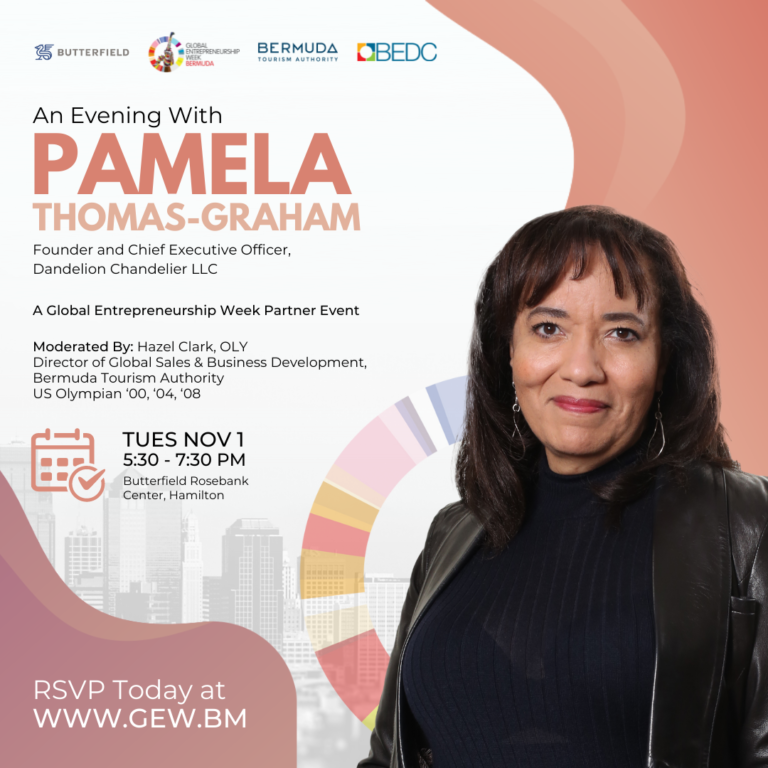 An Evening with Pamela Thomas-Graham
Next Event
Date

Sep 12 2023

- Oct 31 2023

Time

Weekly, Every Tuesday

6:00 pm - 8:15 pm
Join us for an evening with Pamela Thomas-Graham, member of Butterfield's Board and 
Founder and Chief Executive Officer of
Dandelion Chandelier LLC. Dandelion Chandelier LLC is a private digital media enterprise focused on the intersection of luxury, marketing and technology. Prior to establishing Dandelion Chandelier, Ms. Thomas-Graham spent six years with Credit Suisse where she served as Chief Talent, Branding and Communications Officer, and Chief Marketing and Talent Officer & Head of Private Banking and Wealth Management New Markets.
From 2008 to 2010, she was Managing Director of private equity firm, Angelo, Gordon & Company, leading the firm's investments in the consumer and retail sectors. Before assuming leadership roles in financial services, Ms. Thomas-Graham was Senior Vice President, Global Brand Development and Group President, Apparel Brands at Liz Claiborne (now Kate Spade & Company) where she was responsible for the P&L of 18 global brands. Prior to joining Liz Claiborne, she spent six years at NBC Universal, where she served as President and Chief Executive Officer of CNBC.com, and later President and Chief Operating Officer, and Chairman, President and Chief Executive Officer of CNBC. Ms. Thomas-Graham began her career at global consulting firm McKinsey & Company in 1989, and became the firm's first African-American female partner in 1995. She serves as a Director for several private and listed companies, including Compass, Inc., Norwegian Cruise Line Holdings Limited, Peloton Interactive, Inc. and Bumble Inc. Ms.Thomas-Graham holds Bachelor of Arts in Economics, Masters of Business Administration, and Doctor of Law degrees from Harvard University.
Join us for what is sure to be an inspiring and enlightening conversation, moderated by Hazel Clark,
OLY,
Director of Global Sales & Business Development at the Bermuda Tourism Authority and
US Olympian. The audience will have the opportunity to ask questions and engage in conversation with Pamela as well. Drinks & Canapés provided also. 
A GEW Partner Event, Presented by Butterfield, the Bermuda Economic Development Corporation (BEDC) and Bermuda Tourism. Please RSVP Below to Attend.